STRATEGIC PLANNING
plan not to fail
Organisations, big and small perform better when they have a clear vision, a sound purpose, relevant values, an engaging personality, identifiable capabilities and a tangible competitive advantage. These are critical issues for personal branding, product branding and personal branding strategies. They also inform marketing strategy and business strategy more broadly.
Organisations, big and small perform better when they have quantifiable objectives, a well specified target market, a great product, a pricing strategy, an optimal distribution approach and the smallest possible exposure to communication.
Organisations, big and small perform better when they fully integrate their brand strategy and marketing strategy into their business plan, establishing a business that is focused on the customer and driven by their satisfaction. This is part of my philosophy with business planning and business advisory work.
In 2019, all these strategies need to embrace the online and offline environments, with most businesses requiring a digital marketing strategy addressing their website, e-commerce requirement and digital communication. Services address:
Brand strategy
Marketing strategy
Communication strategy
E-commerce strategy
Sales strategy
Lifetime value strategy
Business strategy
If you want to talk to a brand strategist, marketing strategist, business strategist, online marketing strategist, digital marketing strategist, digital media strategist, communication strategist or e-commerce strategist– I would love to buy you a coffee
INSIGHT
Mark Cuban, one of the world's best known and most successful venture capitalists once highlighted the three critical questions he asks businesspeople looking for money. Those questions are:
Are you addressing the smallest possible market?
Do you have a tangible strategic competitive advantage?
Can you prove you understand that the customer owns your ass?
As a marketing strategist I love these questions because they not only highlight the importance of and objective and critical thinking in strategy, but they point to three points surprising to some:
The most cost effective and sustainable strategies involve owning a market and owning a market, requires that the market is a small as possible. Somewhat counter intuitive!
A competitive advantage is critical to marketing given the inverse relationship between the relevance of the competitive advantage and marketing costs. Further a competitive advantage is of little value – and certainly not worth investing in if it is not tangible.
Most business executives say their businesses are customer focused, but as Cuban and just about any consultant knows, very few are. Being customer focused means putting the customer at the absolute centre of every decision, and only the very best firms do this.
There are two myths that have always tickled my fancy:
Marketing and advertising are the same thing
Branding is all about advertising
The fact is, while advertising is about talking at people, marketing is about managing the behaviour of the target audiences most likely to ensure an organisation's commercial or social objectives are achieved. Zara, the world's 5th largest fashion brand has 1400 stores worldwide and generates profits of around 3 billion Euro and year without an advertising budget.
Marketing is the business of doing one of four things – ensuring members of an audience exhibit a behaviour for the first time, last time, more often or less often. A subset of psychology – marketing is all about behaviour management – and more specially, finding the most cost-effective strategy for achieving the required behaviour.
This may but need not involve advertising – a fact not well understood my many marketing consultants and marketing strategists.
Every great brand in the world is built around the expectations, attitudes, wants, needs and aspirations of the primary target market, as identified in research. Every great brand in the world is also build on a culture that reflects those expectations etc. Branding and culture exist on a continuum and work best when they are addressed through the collaboration of marketing and human resources specialists.
The point here is that strategic planning is a complex business and many of the old mantras are just no right. If organisations are going to maximise the cost efficiency of their branding, marketing, communication and business in general – they need to think differently and engage expertise less inclined to waste their money by focusing on advertising – and communication more generally.
I have written a lot on this subject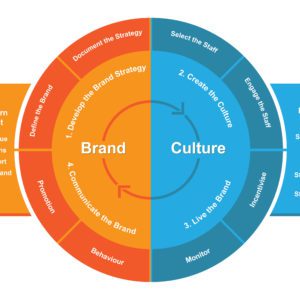 Members of THE NETWORK are eligible for a 20% discount of hourly rates – JOIN US